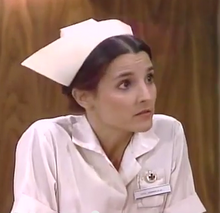 Personal Information
Gender:
Female
Born:
December 29, 1954
Birthplace:
Houston, Texas, U.S.
Occupation/
Career:
Actress
Character information
Appeared on:
The Jeffersons
Episodes appeared in:
"The Arrival: Part Two" (Season 6)
Character played:
Nurse
Jeanne Campise-Harrison (credited as Jeanne Campise; born December 29, 1954) appeared as a nurse at the hospital were Jenny gives birth in the Season 6 episode "The Arrival: Part Two".
Life and career
Edit
Jeanne made two other TV show bit role appearances during this period, NBC-TV's Quincy, M.E. and an episode of another hit CBS-TV series, The Waltons. Born and raised in Houston, TX, Jeanne is a 1976 graduate of the The University of Texas at Austin, where she has a Bachelor of Fine Arts degree in Drama. Having been forced to give up her Hollywood acting career aspirations due to a diagnosed with Rheumatoid Arthritis at age 25, Jeanne, has, after a long period of relative inactivity where she briefly taught elementary school and raised a family, in recent years, has been active as a director in a local repretory theatre, and worked as a realtor with her husband Harvey Harrison; they reside in Westlake Village, CA.[1]
References
Edit
External links
Edit
Ad blocker interference detected!
Wikia is a free-to-use site that makes money from advertising. We have a modified experience for viewers using ad blockers

Wikia is not accessible if you've made further modifications. Remove the custom ad blocker rule(s) and the page will load as expected.