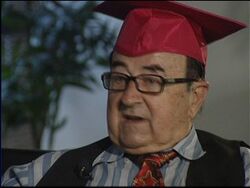 Fred Ball in the 1980's, from a screenshot from the CBS-TV series "Magnum, P.I."

Personal Information
Also known as:
Professor Fun
Birthname
Frederick Ball
Birthplace:
Rock Island, Illinois, U.S.
Occupation/
Career:
Actor/TV personality
Character information
Appeared on:
The Jeffersons
Episodes appeared in:
"The Jeffersons Go to Hawaii: Part Two" (Season 7)
Character played:
Ken Sanders
Fred Ball appears as Ken Sanders, a business manager and stock investor, in the Season 7 episode of The Jeffersons titled "The Jeffersons Go to Hawaii: Part Two". Ball is an actor and comedian who became known as Professor Fun, a character on a Hawaiian children's television show called "Checkers & Pogo", that ran KGMB-TV in Honolulu from 1967 to 1982. After the end of the show, Ball as Professor Fun hosted "TV Powww". The character then appeared on another local childrens show, "Keiki TV Pow", that ran on KGMB-TV in Honolulu in the late 1970's and early 1980's. In between, he became a comedic music artist named Freddie Shaka, who offered such songs as "Deck Of Cards" and "13 Days Of Christmas",
External links
Edit
Ad blocker interference detected!
Wikia is a free-to-use site that makes money from advertising. We have a modified experience for viewers using ad blockers

Wikia is not accessible if you've made further modifications. Remove the custom ad blocker rule(s) and the page will load as expected.