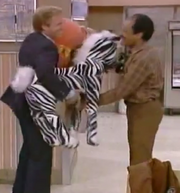 Personal Information
Gender:
Male
Birthname
Donald P. Boevingloh
Born:
June 27, 1944
Birthplace:
St. Louis, Missouri, U.S.
Occupation/
Career:
Actor
Character information
Appeared on:
The Jeffersons
Episodes appeared in:
"The Arrival: Part Two" (Season 6)
Character played:
Man
Don Bovingloh (born Donald P. Boevingloh on June 27, 1944) appeared as an expectant father at the hospital were Jenny gives birth in the Season 6 episode "The Arrival: Part Two".
Life and career
Edit
Born and raised in St. Louis, MO, Don has made numerous TV and film appearances, appearing in such TV series as Too Close For Comfort, Gimme a Break, Alice, Law and Order, Hart to Hart, Love, Sidney, and Caroline in the City. He also appeared in the films such as Things Are Tough All Over (1982), Jane Austen's Mafia! (1998) and Cheech and Chong's Next Movie (1980).
With over 40 years as a professional actor, and over 250 appearances in TV, theatre and film, Don was a 12 year member of The Groundlings Theatre in Hollywood. Don currently directing theatre, and facilitating workshops and Master Classes in Improv, Monologues, and Musical Theatre and corporate speech coaching.
References
Edit
External links
Edit
Ad blocker interference detected!
Wikia is a free-to-use site that makes money from advertising. We have a modified experience for viewers using ad blockers

Wikia is not accessible if you've made further modifications. Remove the custom ad blocker rule(s) and the page will load as expected.