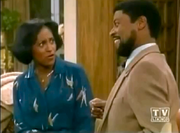 Cousin Ernie, played by William Allen Young
Personal Information
Gender:
Male
Character
description:
Deadbeat cousin of Florence who deceives her into loaning her $1000 that she borrowed from George under the guise that he was opening a record store in the area, only to skip town with his girlfriend waiting in the building lobby downstairs moments later
Related to:
Florence Johnston (Cousin)
Character information
Appeared on:
The Jeffersons
Episodes appeared in:
"Florence's Cousin" (Season 6)
Character played by:
William Allen Young

Cousin Ernie is a character who appears in the Season 7 episode of The Jeffersons titled "Florence's Cousin". The part of Cousin Ernie is played by William Allen Young.
About Florence's deadbeat cousin
Edit
Florence's deadbeat cousin Ernie drops in town for a "visit". He lies and tells Florence that he needs $1,000 to open up a record store venture; Florence, thinking that Ernie has "changed" his ways, asks George to loan her the money to give to Ernie. George, distrustful of Ernie, grudgingly loans Florence the cash she needs to give to Ernie, thanks to the prodding of Louise, who assures him that he could trust that Florence would pay him back. She then gives her cousin the cash he needs, only for Ernie to sneak off for a quick taxicab headed for JFK Airport for a plane flight to Miami with his girlfriend awaiting in the lobby only moments later, which confirms George's distrust of Ernie's motives, as well as Florence's judge of character!
Not wanting George and Louise to know about Ernie's skipping town instead of opening the record store, Florence winds up working in a nearby diner behind George's back part time to get the money to pay him back.
Ad blocker interference detected!
Wikia is a free-to-use site that makes money from advertising. We have a modified experience for viewers using ad blockers

Wikia is not accessible if you've made further modifications. Remove the custom ad blocker rule(s) and the page will load as expected.